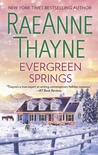 Evergreen Springs
by
RaeAnne Thayne
My rating:
4 of 5 stars
RaeAnne brings us back to Haven Point. This time we get to meet Devin and Cole. Devin is the beloved town Doctor and Cole is a single dad learning how to balance being a good dad and running a ranch. Their paths cross when Cole's sister has a small accident which then caused her to go into early labor. The storyline was fresh and didn't feel like "read that, done that". Devin longs to be a mom but her past illness made that difficult. Devin's and Cole's relationship blossoms as she helps with providing temporary care and support to his children. Cole has a dark past that makes him think he us not worthy of someone as wonderful as Devin. Find out if Cole pushes her too far away and loses the best thing for him.
I wish we learned a bit more about Tricia's and Sean's relationship before and after the birth of the twins, I didn't feel closure. I would like to have seen more soul searching conversations between Cole and his Dad. All in all this is a great Holiday read. It brings the spirit of Christmas and healing just in time for everyone.
Looking forward to coming back to Haven Point.
View all my reviews